1 DAY, 1 TEAM, 2 TRADES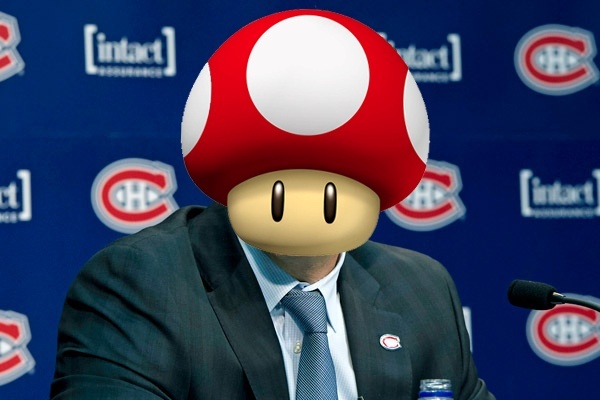 DedliShroomz the owner and newly GM of the Montreal Canadiens finally reacted 2 days after losing his illegal first round. Mr Shroomz was already pretty frustrated after his first day of work that ended with his General Manager Mr. hismombeatshimveryhard by stepping down. Mr Shroomz decided then to not get a new General Manager and take both roles as he is already a very big part of his team. He really thought about the moves he could do with his team and it was pretty frustrating sometimes, but after one day of thinking he actually went and talked trade with 4 owners. He realized some trades with 2 of them to try to get some more active players.
He first off completed a deal with the Los Angeles Kings where other names were involved, but finally Stickyfingers went to Montreal for Smarsh who wasn't the most active guy in the league, but he can definitely help any team's offense when he is available. Stickyfingers already played in this league, but from my memory which is a pretty shitty one, I don't remember him that much, but he brings activeness to the table and some pretty good offensive skills.
He finally made his second move pretty late when the mr. the child yankees and the big armstar accepted the trade. Montreal got the solid rookie defenseman agrocraq and the rookie to keep an eye on king demers for the solid defensive duo of hismombeatshimveryhard and king bull who could impressive, but due to the issue who happened monday night with the ex-general manager, the owner of the team Mr. Shroomz didn't wanted to take a chance. So here is what Mr. Shroomz had to say about his 2 trades today.
"Yes, I'm finally happy to have dealt with the situation. We obviously would like to have a goalie, but it is pretty rare in this league and valuable when you do have a solid one. On the defensive side, I don't think we are really weaker. Yes, people don't know much of our 3 full time dmen, but they will be just ok to defend the goalie from the other forwards. For the offense, we lost a big part with smarsh, but he couldn't play really that much. Kingdemers and Sticky fingers will give us that edge to complete the lines of top forwards chislett and neely. General Preditor is probably going to be one of the team mates, but we always want some depth at the forward position."